Afbeelding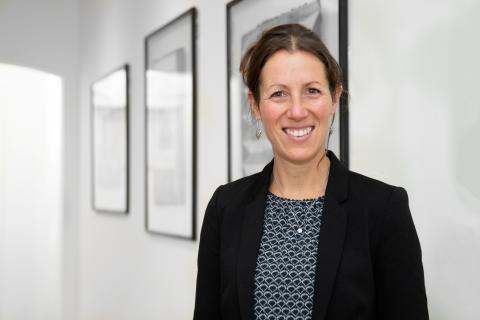 This time in our "In the spotlight" Harmke Duijnisveld; She's been working for Districon Solutions for more than 2 years. In this edition she would like to tell more about her experiences.
Klik hier om de Nederlandse tekst te lezen
Who are you?
My name is Harmke Duijnisveld and I work for Districon Solutions for over 2 years.
I see Districon as a unique supply chain consultancy company, supporting our customers in all aspects of supply chain, logistics and analytics. We are providing supply chain advice, often supported with quantitative analysis, we create and implement (customized) applications and we outsource interim supply chain professionals. This is the perfect combination of all supply chain related services that our customers need, and this often results in partnerships for over decades. Also, this is a great opportunity for our colleagues who get experience on different aspects of supply chain and logistics. This makes us a stronger team and allows us to truly understand the challenges of our customers.
I am part of the Districon Solutions EMEA team and I work closely together with many multinationals in different sectors. Mostly, I am involved as a business consultant, understanding the needs of the customer and translating these needs into a solid advice or an easy-to-use application. It is great to cooperate with so many different cultures, to define what is essential for our customers to take the next step improving their business. The past year, unfortunately due to Covid, we have not been able to travel to our international customers. Nevertheless, I much appreciate the drive, willingness and flexibility, of both our customers and colleagues, to continue our projects online and make big steps forward.
My experiences
For most part of my carrier, I have been working as a business consultant in supply chain & logistics in many different sectors. Ranging from implementations of advanced planning applications, giving strategic advice on the supply chain infrastructure, as well as creating and implementing more tactical (S&OP/IBP) applications and operational (routing & scheduling) applications. In terms of sectors, I have a lot of experience in the Industry and FMCG/CPG sector, as well as the Parcel and Retail sector.
As being a consultant, always advising customers, I have found it essential for a period of time to work for a multinational in a supply chain department myself, to truly understand the challenges that my customers are facing. Therefore, I have worked for about a year within a S&OP department, an experience that is definitely valuable and that I am thankful for.
Also, one other thing that I am grateful for: in between jobs, I have had the opportunity to travel around the world for about one year. During this period, I have met many people from different cultures and countries. I am a person who likes to connect to people and understand their ideas and thoughts. From the headquarters of Districon in the Netherlands, I am happy to connect frequently with Pieter Stoeltie, my colleague in Singapore and with Sander van Lokven, my colleague in Chicago and their teams. Also, when working closely together with many multinationals, I am able to meet many people from different countries and understand and guide them in ways to improve their supply chains.
Vision for the future
In the current world, where data is expanding, data is stored real time and data is available, I believe that the key to success is data driven decision making.
Within our Districon Solutions projects, besides Forecasting and Optimization algorithms, we are currently applying Artificial Intelligence and Machine Learning techniques in nearly every analysis and application. Our customers know that their data can be used to support them in their daily operations, often they do not yet know how to use this big data, what insights can be learned from it or how to integrate this in their decision making. Our consultants, also cooperating with Universities, are always ahead of the technology and they understand which method is most applicable for our customer's challenges.
Besides big data, AI and ML techniques, I believe in the power of scenario planning. Often, we want to know what will happen in the future. Some of us say 'there's one thing that we know for sure: the exact forecast that any application creates, will not happen'. It is much more interesting to understand the boundaries of our forecast. When we know the order of magnitude of our forecast ánd we understand what drives this forecast, we can much better make solid decisions. Scenario planning is part of all of our projects, from strategic advice to operational planning applications. Scenario planning helps our customers, both the management board as well as the operational planner, in taking the best decision given the unknown future.
| | | |
| --- | --- | --- |
| |   | At last, I believe in working together in a team, as Districon colleagues cooperating closely with our customers and partners. As a sport, I row in a boat with 8 rowers. As a rowing team, we understand the importance of having the same ambition, goal, mindset, pace and stroke. This definitely translates easily to our work at Districon: as a team with our customers, with the same goals and pace, we create success, we move forward and we grow together. |
|   |   |   |
Which colleague will be in the spotlight next?                 
Frank Bloo has joined Districon just one month after I joined. I have had the opportunity to work together with Frank for one of my biggest accounts, Heineken. Frank is very knowledgeable, especially in the technical part of data engineering. Besides that, he is super easy going with both our colleagues and customers. I am always happy to cooperate with Frank, as I know that his work is of great quality, he is always one step ahead and he understands what our customers and colleagues need. Frank, the word is to you for the next 'In the Spotlight' article!