Afbeelding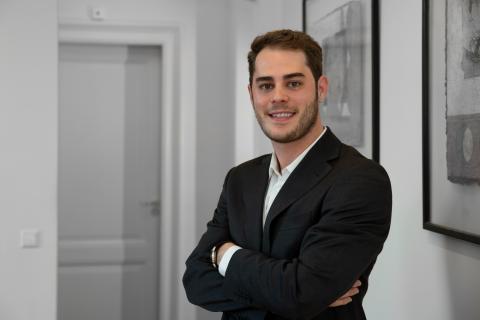 This time in our "In the spotlight": Diego Perez-Urruti; He's been working for Districon Solutions North America for more than 2 years. In this edition he would like to tell more about his experiences.

Klik hier om de Nederlandse tekst te lezen
Who are you?
My name is Diego Perez-Urruti and I have been part of the Districon Solutions team for over 2 years, working in the Chicago Office.
After graduating as an Industrial Engineer at the Polytechnic University of Madrid I felt that I wanted to complement my technical studies with an international experience. One in which I could get a more holistic view of how business works but also focus on technology and analytics as we were entering the mighty Forth Industrial Revolution. So, when I got the chance to go to Chicago to start my career as a graduate at the Illinois Institute of Technology, I just packed my stuff, took a last bite of Spanish jamon serrano, and flew off to the Windy City!
After gaining some useful experience working for a global shipping company, I was lucky to find Districon in the summer of 2018. I quickly realized Districon was the perfect place for me to work as I could combine the 2 things that really give me energy and make me most excited to come to work each day:
Working together with colleagues and clients and tackling complex issues by working as a team.
Solving challenging puzzles and coming up with innovative solutions by applying mathematical modelling, data science and process/business knowledge.
As a SC Optimization Consultant, I can combine this consulting or advisory facet with the design and development of tailor-made solutions by using BI, Mathematical Optimization or Machine Learning.
On top of this, and perhaps the best part of my work, is being able to work in a young, energetic team led by Sander Van Lokven where you can be involved in many different roles and where there is always a friendly and pleasant culture and environment.
Experiences
Soon after starting my job, Districon offered me the opportunity to visit our EMEA office in the Netherlands and work together with my colleagues from the optimization team. This great experience expanded my views and gave me the chance to learn from experienced colleagues and subject matter experts in other industries, such as warehousing or air cargo. I also got to learn about the Dutch culture and its traditions, visited beautiful places and made some great friends at the Maarssen Office!
Back in the US Office, I was involved in many amazing projects during my first year, working together and developing solutions for companies like Nike, Peapod Digital Labs (Ahold Delhaize USA), Purolator or Strategic Financial Solutions to name a few. These projects were very diverse, ranging from strategic network optimization design to developing tactical or operational production planning and scheduling solutions.
The variety of projects and industries is something which makes the job even more exciting and special. Last year, for instance, we were involved in production planning projects for a steel manufacturer where balancing the tradeoffs between changeover and inventory holding costs was key.
That same year (crazy 2020) we had to deliver a cold-chain network design that would determine the best investment strategy to convert the existing pharmacy distribution networks of a major courier and a US pharmaceutical to a temperature-controlled model that allowed full E2E supply chain visibility. As we all know, supply chain and managing cold-chain logistics ended up playing a vital role at the end of 2020. I am happy that Districon, with its in-depth knowledge of logistics processes, has and will continue to help mastering and securing these vital flows.
Vision for the Future
Since we started our partnership with Peapod Digital Labs (PDL), the e-commerce engine of Ahold Delhaize USA, back in 2017, we have worked together in many amazing projects such as the warehouse slotting tool using the AIMMS Optimization Platform.
Currently, we are still working with PDL in new projects related with advanced tote cubing solutions and tactical fulfillment growth for the e-commerce network.
I believe this food & beverage e-commerce boom that we are witnessing and that was accelerated by the pandemic will continue to elevate consumer expectations of flexible shipping and fulfillment options. Micro-fulfillment centers, dark stores and warerooms will help to control costs while speeding up deliveries. It will be interesting to see how this fast-paced environment, with immediate service speeds, different channels, and online providers such as Instacart is balanced with the pressing ethical and ecological expectations of consumers.
Many other projects in which I have been involved in the past years were related to supply chain resilience. Whether it was a strategic sourcing solution for a global retailer or an S&OE application to execute the fulfillment plan of a multinational documentation technology company, the concepts of resilience and risk prevention were underlying principles. These are probably two of the most important supply chain trends for the near future. It will be interesting to see how the application of resilience and risk prevention concepts stands once the pandemic is over and the usual cost-saving incentives are back in place.
In the short term, we are seeing a huge interest in Sales & Operations Execution (S&OE) solutions to take control of fulfillment execution in times of uncertainty, especially in the food & beverage industry.
Which colleague will be in the spotlight next?
While I was in the Netherlands in 2018, I had the chance to work with my colleague Harmke Duijnisveld, senior consultant and an expert in the field of S&OP. I was very lucky as I learnt a lot from her regarding S&OP projects for the dairy industry. I have heard Harmke is currently involved in several AI/ML initiatives in EMEA. I am very curious to learn more about her experiences and the supply chain challenges she has been dealing with lately.