Afbeelding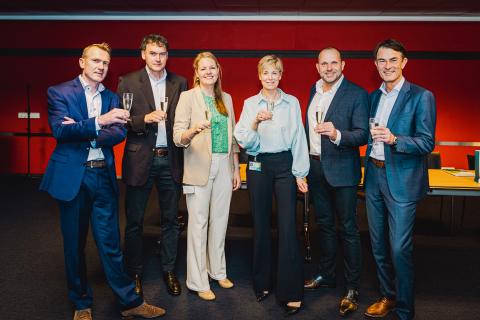 Royal HaskoningDHV has acquired Netherlands' leading specialists in supply chain solutions Districon. This strategic acquisition creates a Supply Chain & Logistics Powerhouse that advises clients from A to Z; from production chain and investment strategy to design, delivery and control of factories, distribution centres and cargo terminals. 


From left: Erwin Faber (Districon), René Dahmen, Sabine Bink, Marije Hulshof (Royal HaskoningDHV), Jeroen Kiks and Jack Pool (Districon).
Manufacturers, distributors and supporting organisations see increasing challenges and opportunities in their chain from raw material to consumer, such as scarcity, changing consumer demands, sustainability and digitalisation. 
 
Royal HaskoningDHV CEO Erik Oostwegel: "We are very excited to welcome the Districon team. Together we can be even more effective in helping clients worldwide to design, organise and manage their entire chain in a sustainable, flexible and efficient way – using the latest digital technology." 
Districon Managing Director Erwin Faber: "We are really looking forward to teaming up with Royal HaskoningDHV. By joining forces, we are even better able to fully support our clients in their entire logistics and production chain. In addition, as a company with 80 employees, we can achieve an acceleration in our growth and make a leap in scale." 
The companies are complementary. Royal HaskoningDHV brings expertise in the technical and financial feasibility and design of production plants and distribution centres, including digital solutions, so that clients stay ahead. Districon brings its unique knowledge of optimising logistics networks, warehousing, transport, (air) cargo, inventory planning and control for clients while using distinctive digital solutions.