Afbeelding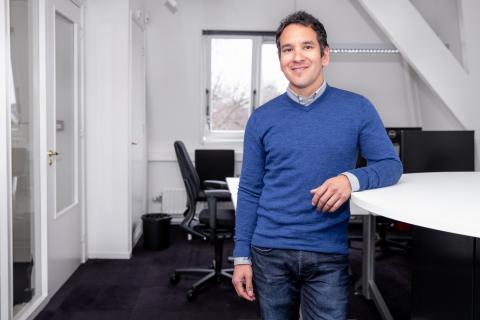 This time in ''In the spotlight'' colleague Rob Strijbosch, our controller with a huge affinity for Excel spreadsheets. Rob has been part of the finance department for nearly 2 years.
Who are you?
Every agency (or every company for that matter) has that finance guy or girl. The one that seems to live in Excel spreadsheets. The one that always seems to have a slightly different perspective, more towards budgets and liabilities, oh… and hours of course hours are always key!
Since early 2019 I have the honor to be that guy in the world of Districon.
But of course any controller would be lost without solid accounting professionals to work with and rely on. At Districon Nelly Peek and Sanne Velthuizen provide the rock solid accounting base that no controller can go without.
My experiences
A sneaker thing.
Being a financial gives you the opportunity to work for all sorts of companies and in a period of around 17 years I worked for a wide variety of colorful companies that only have one thing in common: sneakers. And no, Districon is not a typical sneaker company, but if you peel off a bit of the fancy façade that covers some of the advertising and digital marketing agencies I used to work for it's not that different. A dynamic company bulking with talented and pleasant colleagues.
It's never boring.
The fun thing about an organization like Districon is it's continues development. Constantly focusing on what is changing in its client's needs and demands and investing in the required talent or more specific skills and competences to meet those demands. Whether it is the investment in young talent that eats, sleeps and breaths data or building tools to help managing the increasing complexity of transportation in urban areas. The organization adapts, expands, tries to stay balanced and… in control.
And that's where my role fits in. Making sure that the company meets it's goals in performing from both a financial and operational perspective. The internal analysis, aiming at being self-reflective as a company. Did we optimize our time to deliver in projects? Are we still on track in realizing our financial goals?  Do we make full use of our potential and if not. What could help?
That goes beyond managing costs. Which is a necessity as well but in my opinion at least equal to maintaining focus on meeting our business potential and invest to generate sustainable growth.
Meanwhile I am learning a bit on what Logistics is about, but lets underscore that it is just a bit.
Vision for the future
Where do we go?
I expect Districon to keep expanding in different markets as this is something the company has always done. In recent years we've expanded geographically by opening offices in Chicago and Singapore. But expanding could also mean that we might do more projects in warehouse mechanization or implementing optimizations tools. Growing and expanding will mean that we will need to be fully aware of the company's performance and there is still a lot to win.
In my role I will work on helping the teams in gaining overview and control over their projects by enrolling better project management tools and work on clear KPI's. My experience learned that quality project management can win you efficiency which will benefit both the internal organization as the client.
Another focus point will be to gain more information from what we register in our linked client to project system. As we can still learn a lot from our performance in industries, markets, markets segments, geographical regions or through certain channels. In my opinion essential information to ensure that we are able to set and meet our long term goals.
Which colleague will be in the spotlight next?
For the next In the spotlight I nominate my very talented colleague Bram de la Combé who already during his study embraced the Districon dual core: Data and logistics. I am looking forward to learn from his observations.